Disclosure: This shop has been compensated by Collective Bias, Inc. and its advertiser. All opinions are mine alone. #WatchHowIStyle #CollectiveBias
Happy Monday! Growing up there are a couple things I always noticed about both of my parents and that was their love of watches. My dad loves watches and is always looking for new ones. My mom, on the other hand, has been wearing the same watch almost every day since I was a child. To this day she is still wearing that watch no matter the occasion that has always been a staple for her. It's always been the perfect piece for her as a finishing touch to any look. This has stuck with me through the years and inspired me to want watches so that I could be like them. I remember my first watch with mickey mouse in the center and his arms for the clock hands. I've grown up since then and even though I still love Disney my watch choices are on the more classic, minimalistic side now.
The watch is such a classic piece that is always in style in some form or another. That's the best thing about Anne Klein watches, there are so many different styles, shapes, and colors out there. It's an accessory that can fit anyone's style any time of the year. Anne Klein watches are a classic holiday accessory that would also make the perfect gift for any woman in your life, including yourself. You can dress a watch up for a holiday party or dress it down for a casual get together with friends. I took the more casual approach in today's look with this white lace top and ripped jeans. It also looks great layered with bracelets if you want to dress up the look even more. And to mention the obvious, it's functional as well.
Hover over the image to start shopping for your holiday watch look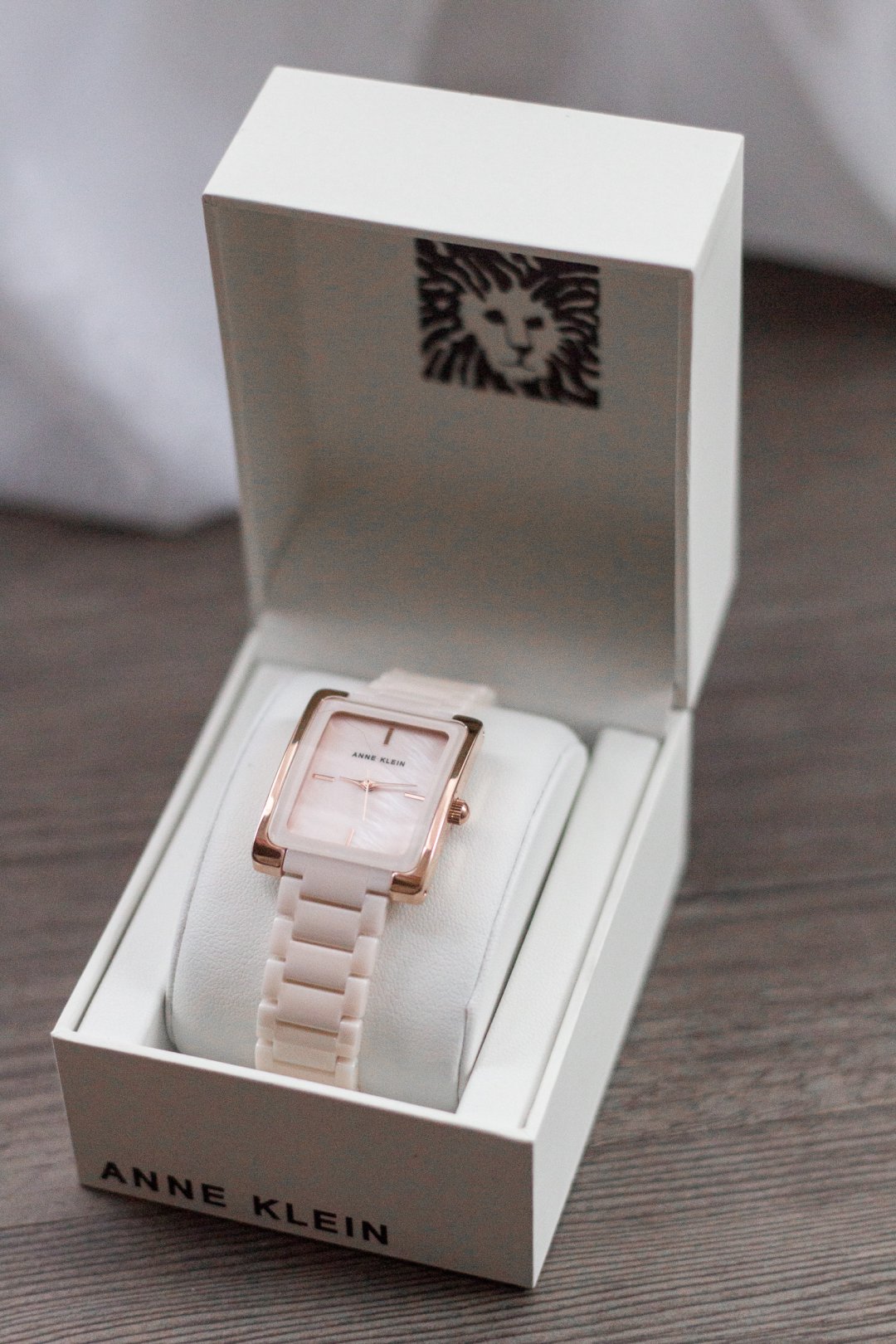 For most of the year, I can be spotted wearing a simple, black leather watch but I wanted to change it up for the holidays. It's a festive time of year so my accessories should be too. I'm not normally a person that is drawn to the color pink but this Anne Klein light pink watch with rose gold accents really caught my eye. I also love the unique rectangular shape and how it is different than all the other watches that I own. Since this watch is such a standout piece I really wanted it to be on its own and now hide it with any other bracelets. It would be fun though to add some rose gold bracelets to bring out the details of the watch. When I was shopping for my Anne Klein watch at Macy's I did notice they had some watch box sets with bracelets already included.